Harveys Canada: Free Original Burger With Bacon Cheddar Ringer!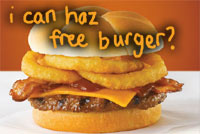 I've received a free coupon which you can use at Harveys Canada. If you purchase a Bacon Cheddar Ringer burger from them, present this coupon, and they will also give you a free original burger. Yum!
Yummy, yummy, in my tummy. I don't think I could eat both myself, but this would be the perfect excuse to grab a friend and drag them down to Harvey's for some fast-food fun.
(Coupon expires 29th October 2009)