Extreme Pita Printable Coupon for free stuff when you buy a pita in store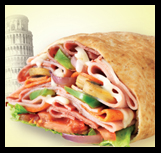 Do you like snacking on lovely filled pitas!? I do. You might be interested in these printable coupons from the ExtremePita franchise. If you buy "Rustic Italian Pizza" or the "Mandarin Chicken" pita in store, present this coupon when you do so. They'll offer you a free drink and a free snack too.
Extreme Pita have quite a few locations in Canada. Hopefully you can make use of this free coupon before it expires on the 18th of September, 2008.
I sometimes make a snack of a pita, filled with crispy lettuce, tuna, and lashings of mayo. Makes a great lunch!
Discount coupons like this for the fast food restaurants are quite handy! Especially if you work in an office in the city, and have to buy your lunches out and about.
- Anna
UPDATE - September 18th 2008 - coupon still active!