Extreme Pita Canada: Free Coupons & Deals!
Do you like Extreme Pita restaurants? I've spotted a deal for you, if you do! If you join the Extreme Pita email newsletter online, they will mail you a link to a free coupon immediately, and further coupons and deals throughout the year.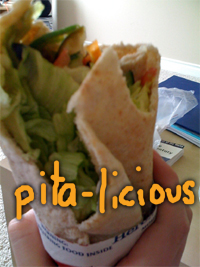 I just joined up and they have emailed me a discount coupon. It is for a free canned or fountain drink when you buy any regular size pita, salad or flat baked bread. The expiry date is the 28th of May 2009.
A few years back, I never used to like filled pitas at all. However, my partner has been slowing introducing them into my diet, and now I kind of like them! They're yummy filled with some warm chicken, lettuce, cheese and mayo. That's my favorite!
Remember, you can click my email discounts tag below to see more deals by email.
Thanks seanmccann.