Canadian Coupons: Free Licks HomeBurger With Purchase!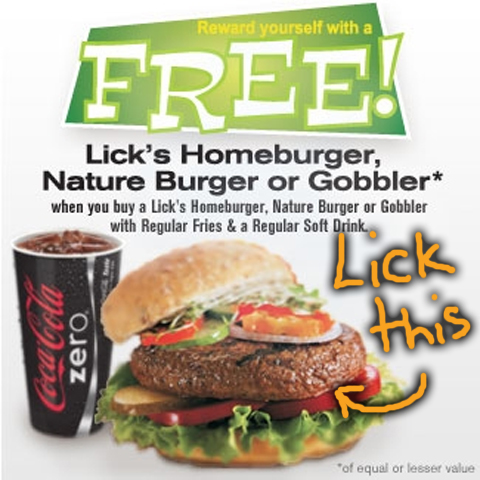 Would you like a free Licks Homeburger when you next make a meal purchase at Licks? Here's how:
First of all, you need to create an account on iCoke.ca, if you don't already have one. It's free to do.
Then you need to go here to order your free coupon:
You sort of have to go through a checkout process, adding the coupon to your cart, then paying for it with zero icoke points. It generates a unique coupon code, and a page which you can then take with you into Lick's Homeburgers. Here is what the coupon will get you:
Buy a Lick's Homeburger, Nature Burger, or Gobbler with regular fries and regular soft drink and get a second one of equal or lesser value FREE!
Just looking at that image of the burger is making me hungry!
The deal will expire on the 31st December 2009.