Baskin Robbins: Show Pink for 31% Off Your Waffle Cone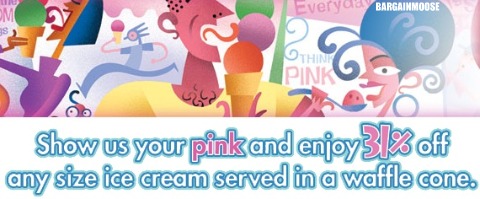 We get to talk about BREASTS! :-D In show of solidarity for those who suffer from, have suffered from and those who are related to those who deal with breast cancer, Baskin Robbins will give you 31% off any order in a waffle cone when you show them something pink. Maybe it is a reusable bag, lipstick, the hem of your underwear... or maybe something less kinky! 31% off your waffle cone is yours till November 30th, 2010.
If you don't have something pink - you just don't like pink or aren't 'man enough' to wear pink or even carry a smidgen of it upon your person, you can print out the following coupon IN COLOUR and bring it in instead.
So go enjoy a cone. Baskin Robbins will donate $10,000 plus the cash donations collected in-store to the Canadian Breast Cancer Foundation. <3