Thyme Maternity Printable: 50% Off 1 Regularly Priced Item (+ $15 Off Online Orders Over $50 With Promo Code)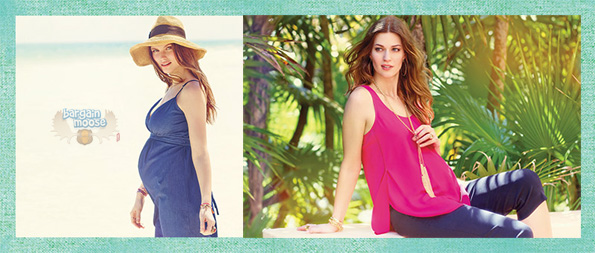 Calling all pregnant or new mommies! Thyme maternity has a fabulous printable coupon out for 50% off the purchase of any regularly priced item. Plus, you can also use the code below to save $15 off orders over $50 when shopping online.
Print your 50% off coupon @ ThymeMaternity.com now
Click here to shop @ ThymeMaternity.com now
Coupon code: TMONGM2014
Discount: $15 off $50+
Expiry: 7th June 2014
I have a love/hate relationship with Thyme Maternity. On the one side, they have definitely helped me feel better about my pregnant and post-pregnancy body but at the same time, I have always dreaded visiting one of their stores. It isn't because the salespeople aren't nice but the up-selling can be a little much. I have heard this same feedback from many women before I'm sure this little hiccup can easily be overlooked with the half off printable coupon in hand! ;)
Whether for everyday wear or for a special occasion like a baby shower, I definitely recommend Thyme Maternity despite my love/hate relationship. I gave birth over a month ago and I still wear a pair of black leggings that I received as a Christmas present! In fact, they currently have a version of the ones I have for $42: the maternity leggings with zipper detail and I'm sure they are just as comfy as mine. Plus, summer is definitely the perfect season to show off the baby bump with a Maxi dress if you're pregnant, but be sure to send us a picture if you do get one!
Although they have an ongoing "buy one, get one 40% off" promotion on all bras, I'm actually thinking of using the printable coupon on a nursing bra regardless because I would much rather pay $22.50 for one padded nursing bra, for instance, then to pay $72 for two such bras ($45 for the first bra and $27 for the second at 40% off).
The Thyme Maternity coupon code is only valid on regularly-priced merchandise but be sure to check out the sale seciton regardless because you can get the multi-maternity bra for just $14.99 (reg. $49) or the v-neck maternity tank top for $14.99 (reg. $24), with plenty more to choose from as well.
As usual, shipping is free on purchases over $100 when shopping online.