Bravado Coupon Code: 25% Discount!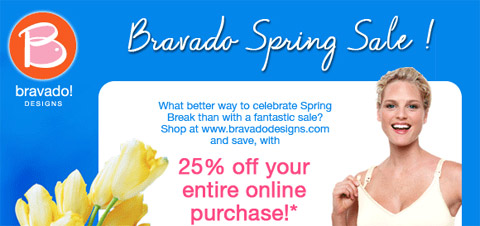 This is a great Bravado promotional code, for a 25% discount on your total purchase online. In case you don't know who they are, Bravado are a retailer of nursing and maternity clothing, mainly underwear.
Click here to use the Bravado coupon code online
Promotional Code: MB-182
Discount: 25% off
Expires: 15th March 2010
Bargainmooser Justine kindly emailed me with this coupon code, with her words of recommendation about these nursing bras. I actually bought a nursing bra last week, but I have a feeling I didn't get the right size for my ever-expanding chest. I might give one of the Bravado ones a try as well.
Has anyone else here used Bravado - what are they like, and would you recommend them?