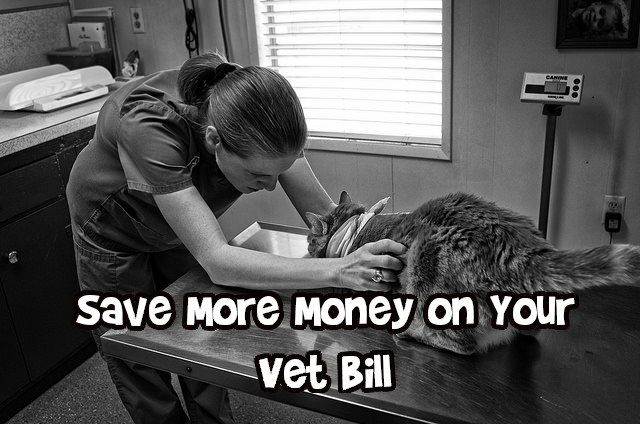 Last year, Bargainmoose shared 4 Tips to Save Money on Your Vet Bill, and it focused on preventative care like brushing your dog's teeth to avoid tooth decay and shopping around with your veterinarian for quotes.  Pets are expensive so you should think twice about whether you can afford a pet before you get one.  However, if you are planning to get a pet, check out this Bargainmoose post on how to save money on a new animal.
This year, my article will focus on another way to save more money on your vet bill, and it is related to the dispensing of medications.
I have taken my dog to the veterinarian twice this year and have had lots of issues having to go back to the vet because of my dog's flare up with his environmental allergies. He has seen a vet dermatologist, don't get me started!  Each time I take him to the vet, it is a $300 bill at minimum because of the consult, the tests they run, and the prescriptions.  As we all know, veterinary care is expensive!  For example, one injection for his allergies (an anti-itch medication) cost $40 to administer.  His Vanectyl P (it includes a steroid and an anti-itch medication) cost about $40 for 16 tablets.
Skip Out on Your Vet's Pharmacy, Use a Human Pharmacy
I think many pet owners are unaware of this, but you can ask your veterinarian to give you a prescription for your pet and you can take that prescription to a "human" pharmacy and ask the local pharmacist to fill your medication.  A lot of pets take the same medications as humans, just in different quantities.  CBC News recently did an investigation that showed that pet owners can save hundreds of dollars on their pet medications just by taking the prescription and filling it at a human pharmacy.  An example that CBC gave was, 10 mL of Lantus insulin for a cat who has diabetes cost $175 at the Yaletown Animal Hospital and $65 at London Drugs Pharmacy on Broadway in Vancouver.  This medication is a continuous medication that the cat needed for the rest of his or her life.  Another way to save is to look for human pharmacies that charge a smaller dispensing fee.
Despite these savings on pet medications, of course, there are some medications that are specifically designated for animals, and you would not be able to use a human pharmacy.
Pets Drug Mart
For that issue, another option that I recently tried is Pets Drug Mart.  It is a Canadian online pharmacy that specifically is for animals.  It is 100% Canadian owned and operated and on average, you would save 20-50% off the price of what you would pay at your vet.  You just need to ask your vet for the prescription for certain medications that require a prescription.  For the Vanectyl medication, it is an over the counter medication and I did not require a prescription.  Instead of me going back to the vet for another check up and assessment for something that he needs (the Vanectyl) and spending $350+, I was able to get 15 tablets of Vanectyl  for under $16 (each tablet is $0.53) with shipping.  He is now doing better and is not scratching.  The service was great, they shipped it quickly and I received the medication in a couple of days.  On average, you should get your delivery in 3 to 6 business days via Canada Post.  I was also able to track my order to see where it was and prepare for the delivery.
Pets Drug Mart also has other pet supplies including shampoos that you would only normally find at your veterinarian's office.
For further savings, check out the Bargainmoose page on deals and coupons for pet supplies.
Some veterinarians are not happy that their clients are going to 'human' pharmacies to dispense the medications, because they are in a competitive business and supply less of the medication or medical supply than a wholesaler or a larger 'human' pharmacy would.  Another reason is that I suppose the reason for this discrepancy and mark-up is that the College of Veterinarians of British Columbia does not have any government regulations on prices that your vet charges for your medications.  I am unsure what it is like for the other provinces or territories.
Bargainmoosers, have you tried using your local pharmacy or Pets Drug Mart before for your pet medications?
Photo credit: Anne Worner