Petsmart: Save $5 on Authority Dog or Cat Food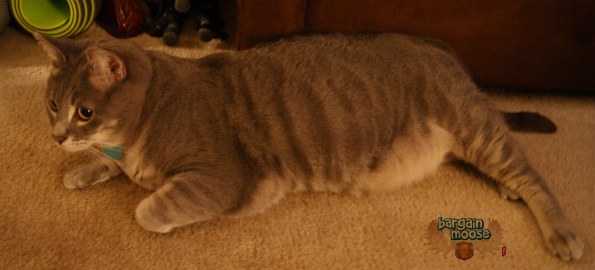 Get $5 off a bag of Authority Cat or Dog food. The Printable coupon says 'exclusively for new customers' so if you are not a 'member' of Petsmart you will be able to use it. Or else send in a friend who isn't to get this great offer. I'll be asking my Mom probably.
Authority cat food is the only chow we feed our cats. It stabilized our first cat (Ghost) and his little washroom issues, and they both seem to attack their dishes with zest every time we feed them - they just love that food. We get the huge bags, with 2 big cats in the house.
My big boy Ghost is pictured above - slightly fettered by the newcomer Champagne. Last time I weighed him he was 15 lbs! He needs to cut back a little on that lovely kitty chow.
Expiry: 31st, December 2011