Petcetera Printable Coupon: Save $30 Off $100 Purchase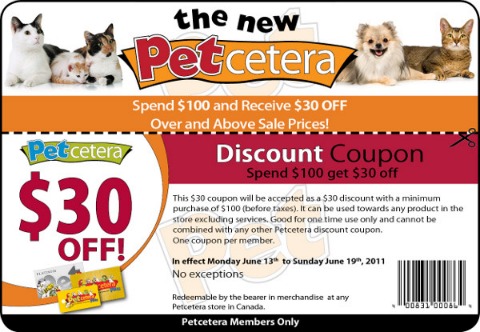 If you need pet food or supplies, you'll want to head to Petcetera where you can save $30 off your order of $100 or more until 19th June, 2011. Use the printable coupon in store to save. You must be a Petcetera Member to use the coupon.
There is a limit of one coupon per person and the coupon is one time use only and can't be used with any other Petcetera coupon. The coupon can be used on regular and sale priced items but not on services provided in store.
Petcetera has some great deals advertised in their flyer now, but most are for Petcetera Plus Members.  Click here for more information. It's free to join!
Some of the deals on now:
50% off indoor/outdoor training crates starting @ $64.96
50% off Timber Fun Time II Cat Scratching Furniture @ $39.96
50% off Petcetera Crown Bed for dog and cats @ $19.96
Save $22 off Catit Hooded Litter Pan @ $32.96 & get a free bag of Daily Scoops Cat Litter ($13.99)
(Expires 19th June, 2011)