Petcetera Canada Printable Coupons! Save On Pet Supplies!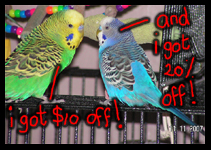 There are a few quite good coupons on the go for Petcetera at the minute. I received both of these by email, so I'll share them with you here, so you can save some cash on your pet products!
The first is a $10 discount coupon for a $25 spend in store @ your local branch of Petcetra. It will be valid until the 7th of December 2008.
The second is a printable coupon for 20% discount, but it will only be valid on Sunday the 7th of December 2008, from 6pm to 9pm in the evening. It's a very good coupon, so they've decided to limit its usage.
Here's a thought – why not make use of the discounts and buy yourself some of the pet products featured in the "Free Cat Food & Free Dog Food" post, then claim it back on mail-in rebates! Free pet stuff!
P.S. If you'd like to get these kind of coupons by email, why not follow the insturctions in the "Tips for Getting Extra Discounts @ Petcetera Canada" post.
Thanks for the pic sonja71.