Petcetera Canada Coupon: 10% Off Online Purchases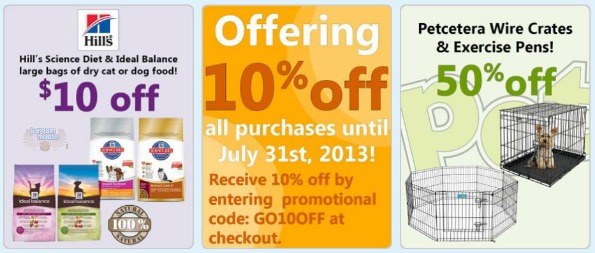 Petcetera has just started selling pet supplies online! To celebrate, they have a 10% off coupon code for anything on their website.
Click here to shop pet supplies @ Petcetera now
Coupon Code: GO10OFF
Discount: 10% off
Expiry: 31st July 2013
You can pair this coupon up with some of the discounts they already have on their website. For example, they have $10 off select bags of Ideal Balance Grain Free Natural Dog Food. They were $69.99 and are discounted to $59.99. After coupon, each bag comes down to $53.99.
They also have $10 off this Ideal Balance Natural Chicken & Brown Rice Adult Cat Food. Originally $59.99 it is now $49.99. After the coupon is applied, the price comes down to $44.99. I have been wanting to change my cat over to a more natural cat food for a while. I believe the cost of quality will be offset by his better health.
Shipping costs are dependent on the items in your order and the shipping method you select. I picked two bags of cat food which would weigh in at 30 lbs. Shipping was a bit expensive at $26.10. However, I did pick some pretty heavy stuff, so I am sure for lighter things like toys it would be a much better rate.
The online shop is still pretty new, so there might be some glitches. I had some pricing errors where something was supposed to be on sale and yet the sale price matched the regular price... or the regular price matched the sale price instead of showing the original price. I am sure all of these bugs will be worked out soon.
For this and any future Petcetera coupon codes visit the forum.