New Petcetera Coupon For $10 Off $25…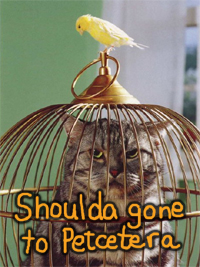 We've had a few Petcetera coupons in the past… time for another one! Once again, it's a discount coupon for a $10 reduction on your pet supplies purchases of $25 or more.
Click here to print out your free printable coupon for Petcetera Canada.
I don't have any pets, but some family members do, and I know they can be super-expensive to keep. Discounts like this are bound to help! This free coupon expires on the 15th of February, 2009!
I did once have a pet, it was a flea called Murray, but he wasn't very expensive to upkeep. In fact, he didn't really cost me anything. He came to my ownership from some hippy in a train, and stayed with me until that horrible accident which we won't mention here. Sometimes, he used to whisper little orders in my ear which I felt obliged to carry out, such as "Don't have a shower for 5 days" or the more common, "Rub some chocolate on your head." He was a great friend, he was always with me when times were tough! I miss Murray!
P.S. Don't forget to sign up to our RSS feeds to keep an eye on all the deals!
P.P.S. If you'd like to get these kind of free coupons to your email inbox, why not follow the destructions in the "Tips for Getting Extra Discounts @ Petcetera Canada" blog post.
P.P.P.P.P.S. Nothing. Just kidding.