Canadian Coupons: 15% Discount @ Petcetera!
UPDATE: Now Expired!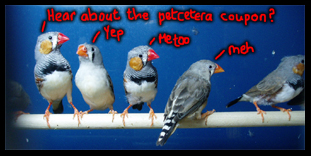 I recently received this e-coupon from Petcetera Canada. It's worth a 15% discount on your pet supplies. Just print it out, take it to your local store. It will expire on the 26th October, so you have a few days left to make use of it.
If you'd like to be one of the first to get these kind of coupons from Pet Cetera, read my post on how to do so.
Thanks for the pic bing-bong.

- Anna