Teething Baby!? Amber Teething Aids from $12.79 @ Well.ca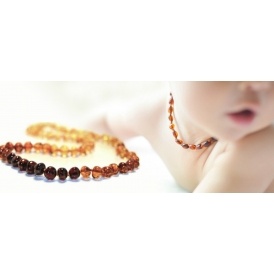 Here is something I honestly never tried when my son was teething—amber teething aids. Yet, so many people constantly told me to try them, I just never ended up finding any that were easily available when my son was little. They seem to be sold allover now and Well.ca has a fab deal. You can get your hands on Amber Teething items by Momma Goose for as low as $12.79. Spend $29 for free shipping.
You remember the phase where you wanted to rip your hair out? The teething phase! Even if you haven't experienced it yet, you know exactly what I am talking about. If you are looking for non medicinal ways to soothe your baby during the uncomfortable teething stages, then here you have it. Check out the sale on amber teething aids at Well.ca.
The least expensive amber teething item by Momma Goose is the Amber Teething Baby Bracelet Cognac which is 5.5" so I am assuming it is for baby's wrist. It is on sale from $15.99 down to $12.79.
If you want a necklace instead, the prices start at $18.39. They also come in different colours and sizes. The Momma Goose Teething Necklace is on sale from $22.99. It is available in baroque rainbow, olive cognac, and more. The one pictured loose above is the baroque rainbow option, and the one on the baby is the olive cognac option.
Prices go all the way up to $27.99 on sale right now, and some are even made to fit mom or dad. I could see my guy sporting the Momma Goose Amber Teething Necklace in Olive Multi for sure. Especially if it stopped us from ripping our hair out during teething seasons.
Well.ca offers free shipping on orders over $29 so perhaps you need to pick up some other teething remedies? Or pick up the Sophie the Giraffe teething toy I blogged about earlier—on sale today too!
Have you used amber teething aids before? How did they work?