Parents Canada: Touch Screen Warm Gloves $4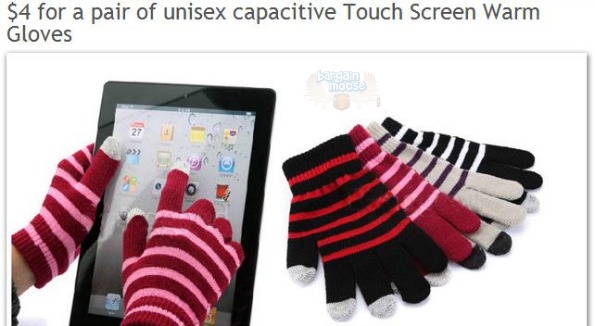 Parents Canada has a great deal on right now for people of all ages.
Here is a little more about this deal:
Pair of gloves for touch LCD smartphones
Warm your hands while surfing on your touchscreen device
Thumb and index fingertips equipped with special conduction material
Taxes are included
Shipping not included ($6 per item) - payable upon redemption
Vouchers are valid for six months from date of purchase
Since practically everyone nowadays has a smart phone or tablet device, this makes an excellent stocking stuffer.  As an added bonus, use the exclusive Parents Canada promo code BARGAINM and save an additional $2 on this deal.  That drops the price to just $2 a pair!
We purchased the new iPad this year and I think this is a great accessory to have for it.  For anyone that has a smart phone or touch/tablet device, they can use it outside now without freezing their hands. I can't even remember how many times I have waited for a city bus in the winter (because in winter they are always late) and got out my phone to see when the next bus was coming.  Now I won't have to take off my gloves to check the schedule!
(Expiry:10th October 2012)