Parents Canada: $25 for $50 worth of Reusable Snack and Sandwich Bags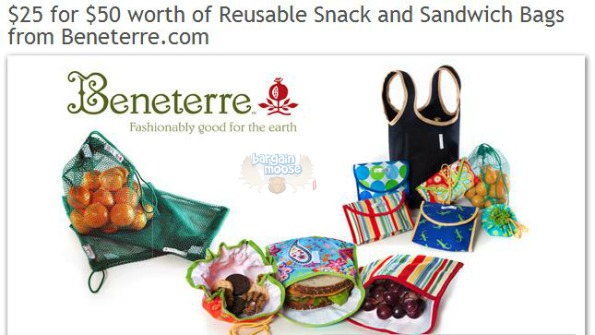 Parents Canada has a great deal on right now that in not only environmentally friendly, but a unique gift idea as well.  You pay just $25 for $50 worth of reusable snack and sandwich bags from Beneterre.com.
Here are the details for this deal:
May purchase 2 vouchers for self use and 2 as gifts
Shipping not included (starts at $9 to Canada)
Vouchers expires in 3 months
Can only use one voucher per transaction
Vouchers cannot be combined with any other offers
To Redeem: Please wait until the deal expires and enter your Sweet Deal voucher redemption code during checkout on www.beneterre.com
Save 50% on this voucher from Parents Canada until 6th June 2012.  I love the fun designs of these reusable bags. These bags are available in sandwich, snack, produce bags, and wine carriers.  There is a huge selection and they have fashionable and functional designs. They are washable, reusable and safe.
These would make a great gift for anyone that brings their lunch to work everyday or for kids as well.
(Expiry: 6th June, 2012)