Agoo: 20% Off 4-in-1 Water Bottle Gift Set Coupon Code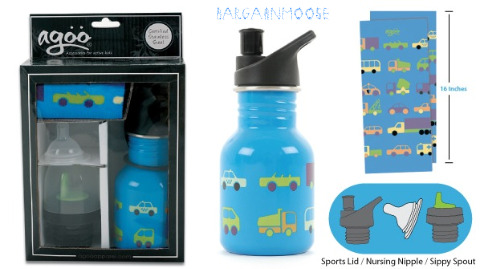 I thought these were really cool when I saw them, so I wanted to share this little promotional coupon with you, and maybe you will find some use for it. Agoo just got in some 4-in-1 water bottle gift sets that at amazing. Why are they amazing? They can take your child from baby to middle school years with no problem.
In your kit comes:
Three lids: nursing nipple, sippy spout, sports top
350ml BPA free stainless steel bottle
matching pair of bamboo leggings
To check out the Agoo 4-in-1 Bottle Gift Sets click here
If you want one, for two days only they are offering 20% off with coupon code!
Discount: 20% off
Coupon Code: 20offh2o
Expires: 2nd October, 2010
This is a really cool set and instead of buying new travel bottles when your child hits different stages this is your 'one-stop' bottle kit. I think it is a really nifty idea.