Watermelon Tap - Just Add Vodka! $20 @ Amazon.ca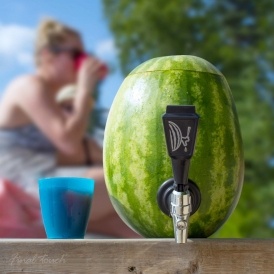 There are 3 simple steps to having a fun summer - hollow out a delicious watermelon, fill it up with vodka, and have fun. Oh - but you'll need this Watermelon Keg Tapping Kit first. This kit is available for $19.99 at Amazon.ca.
Summer can be so much fun - especially if we (as adults) add a little vodka. Get your hands on this Final Touch Watermelon Keg Tapping Kit and you can flavour any alcohol (or punch for the kids) with a tint of watermelon and you will even have the cutest keg going.
It is quite simple too! Take a sharp knife and straighten off the bottom of your watermelon so it will stand up. Don't take too much off! Then cut off a lid from the top and scoop most of the watermelon out (and feed it to the kids). Then you can use the included tool to make a hole for your tap and attach the faucet. Then fill the watermelon (or any melon of your choice) with your choice of alcohol or punch.
We did the old-school way this summer and last where we literally stick a bottle of vodka into the watermelon. This method here will be much easier - and you could even add ice or mint to make it like a mojito. The options are endless.
Amazon.ca offers free shipping on orders over $25.
(Expiry: Hopefully Never)