How Cool Are These Bug Repellent Bracelets?! Totally Deet Free - Just $8 For 5 @ Amazon.ca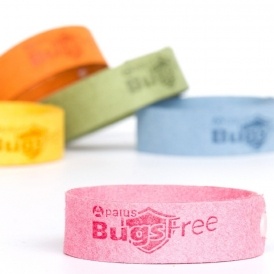 This is one of the best Lightning Deals I have seen in a while - I don't mean the best discount, but I mean these bracelets are pretty wicked! Today, you can shop at Amazon.ca and get the Apalus Bugs Free Mosquito Repellent Bracelets on sale. They are $7.99 for five of them - which means there is one for the entire family!
The description for this product says NO MORE BITES. I am not sure if you can expect to never be bit by a bug again while wearing these bracelets, but reviews definitely suggest that these bracelets work for repelling mosquitoes and other flying nuisances.
These bracelets are 100% kid safe (deet free, non-toxic) - and I bet they are a lot easier to use than bug spray. Have you ever tried to pin down a three year old who is convinced that bug spray is the devil?
Plus - these bracelets are totally reusable. So wear them for the day, then stick them back in a resealable bag so you can keep the bugs at bay next time you have an outdoor adventure.
Spend $25 to get free shipping at Amazon.ca.
(Expiry: 19th July 2016)