Floating Oasis For Your Drinks, $13.63 for 3 @ Amazon.ca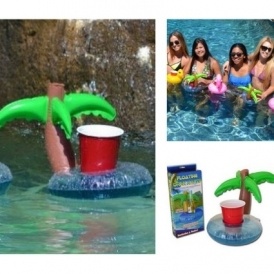 Finally! A place to put drinks when you're swimming in your outdoor pool.
Palm island inflatable drink floats are perfect pool party accessories. I love how cute but practical they are.
I was reading the reviews on Amazon.ca and they're excellent! This product is a best seller, after all. It's also on sale for $13.63 for a 3 pack, down from $17.99.
The best tip I gleaned from a reviewer was that red solo cups work the best in these floats. Hint: Costco sells Kirkland Signature red solo cup look-a-likes for a decent price.
You could even use these palm tree island drink floats in the bathtub if you want... Voilà! Your own personal oasis.
Shipping is free if you top up your order to over $25, otherwise will start at around $4.50 or so.
(Deal expiry: Unknown)