In a recent article in CBC news, the age-old topic, "How much sleep should my child be getting' is answered in a short table graph format, thanks to a panel of experts and the American Academy of Sleep Medicine.
Wendy Hall, UBC sleep specialist and nursing professors is the only Canadian on the 13-member panel and she says that lack of sleep for children is a growing trend.
Does your child receive the recommended amount of sleep? These are the guidelines provided by the American Academy of Sleep Medicine. Sleep times recommended include nap times as well. (If you are lucky enough to have a child who enjoys naps!)
4-12 months - 12 - 16 hours
1-2 years - 11-14 hours
3-5 years - 10- 13 hours
6 - 12 years - 9-12 hours
13 - 18 years - 8 - 10 hours
You will note that Canadian guidelines are similar to that of the new recommendation by the American Academy of Sleep Medicine. Current Canadian guidelines for sleep for children (from the caringforkids.cps.ca website) are as follows: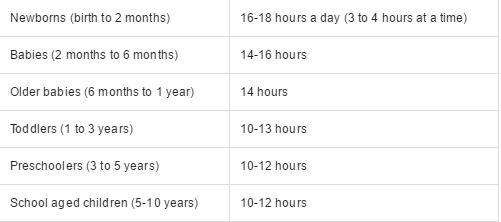 The Canadian Pediatrics Society (CPS) has plans to endorse the Canadian 24 Hour Movement Behaviour Guidelines for Children and Youth later this month, and those guidelines will encompass and bring forth recommendations for physical activity, sedentary behaviour, and sleep.

Most moms (and particularly those with newborns) understand all too well what it feels like to be extremely sleep deprived. But for a child, Dr. Hilary Myron, a pediatric sleep specialist at the Children's Hospital of Eastern Ontario in Ottawa, says that it can affect their cognitive and emotional development and that it is absolutely critical to get enough sleep.

The benefits to getting the right amount of sleep for anyone, not only children, can include improved attention, behaviour, memory and overall physical health. What if a person doesn't get enough sleep? The negative effects can involve an increase in injuries, hypertension, obesity and depression.
Myron told CBC News that electronics such as iPads, tablets, phones, and TV's should not be in a child's room at night time. These are activities that are non-conducive to sleep.
What are some of your tips for getting your kids to get enough sleep? Let us know in the comments below!