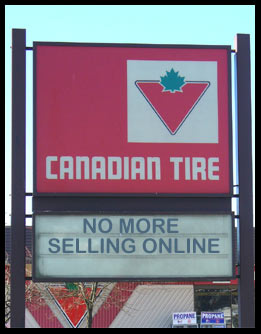 It seems Canadian Tire (Or "Canadian Crap" as a few of my friends have named them) is another company to be hit by the global credit crunch. They have just announced that they will be ceasing online selling. This will happen on the 29th of January 2009. You can read more details here on their landing page.
CanadianTire does not adequately describe why they are doing this, just the fact that the site is used more for research and product comparison. But surely it doesn't really cost them anything extra to allow people to purchase online… so why cease the selling??
This is bad news for us consumers really… because they used to have some pretty good deals online. A friend of mine managed to buy 3 brand new toaster ovens for only $5 each at one time! They must have been a mis-price, because they were actually worth $100 each, or something along those lines.
I hope they still allow you to order online and collect at your local store, as this feature was pretty handy… but from the sounds of things, that's likely to cease as well. They do say something about introducing that ability in Spring 2009 though.
Anyway, if I hear any more news about it, I'll be sure to keep you guys updated. Also, if you hear anything new before I do, it would be great to hear your thoughts on the matter!
P.S. Thank you for the image i love your computer.