While not in my usual deal-hunting category, this report caught my attention so I thought I'd do a quick blog post about it. McAfee have done a study on the most risky search terms on google, with some interesting results!
What's it all about?
McAfee analysed the results of certain google searches. They class a result as risky if it leads to a compromise of your security, e.g. downloading a virus or a Trojan horse, or a link to a phishing site. You can read the whole report here if you want a more thorough explanation than that.
It seems that hackers and naughty folk are using current popular terms to lure us to a website… then they have their wicked way!
Risky business in Canada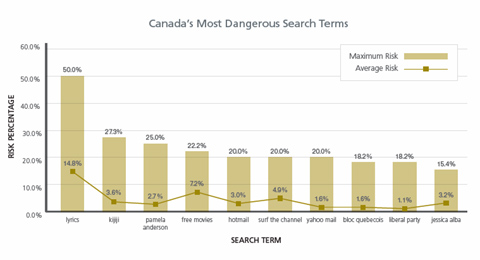 Above is the graph of the top ten risky search terms in Canada. The term lyrics is nearly twice as risky as the next result, Kijiji.
So if you're off googling Pamela Anderson or Jessica Alba in your spare time – be careful!