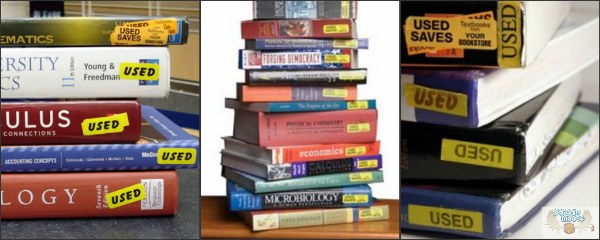 It is 1 month away from going back to university / college, and now is the time to be buying your textbooks: believe it or not. Usually universities have just come out with the fall list of books for classes and you as soon as possible you should consult that document and compile a list of what you need.
The key is to by USED. Used textbooks will save you a ton of money, and not just buying used from your campus bookstore.
Your best friends for used textbooks are:
Between those three websites you can find a huge supply of textbooks. Shipping per textbook when buying used is around $6.49 per book. Factor that in to your buying price to make sure you really are getting a deal.
The first commandment of buying used textbooks is buy early, generally at the beginning of August.
The second commandment is to price compare.
An example from my own schooling: to buy my History of Modern Psychology book at the campus bookstore used would cost me $116.25, new I would be looking at $154.79. A quick look at Chapters for the book and I can get it used for $67.56 (+ $6.49 shipping). Amazon marketplace has it actually new for $56.47 (+ $6.49 shipping). Do I buy from them? No. I check Kijiji. There a girl who took this course last semester is selling her used textbook for $40. So I arrange a pick-up with her.
Things you need to know:
Most used textbooks come from the US, that is why you need the lead time for the 2 -3 weeks for shipping.
With many of the used textbooks coming in from the US, once in a while you might get hit with duty. I have done this for years and I think $15 was the worst for a $80 textbook, that would have cost me $120 here. I think in 3 years I have been hit with duty 3 times.
When your university does book buybacks they will buy back ones you have not purchased from them. It is a great way to break even, and even make a profit on some textbooks.
Your book is used: don't worry about marks, dirt, worn cover, etc. Just make sure the description says legible and that there are no pages missing. It is not like you are going to have it for very long.
Addition useful information:
Get the ISBN number of the book you need and use that to make sure you are getting the right edition. There is nothing like being behind an edition or not getting the 'canadian edition': not fun.
When the 3 big boys for used textbooks fail, there are additional sites I have had amazing success buying textbooks from: Bookbyte and Alibris are the other top two. For them you can usually find coupon codes for additional % or $ off. Make sure you are aware of the shipping costs and factor them in, I know for Bookbyte it is around $11 a book.
My success story:
I have bought used textbooks for 3 years now. I generally spend about 30 - 50% less than buying them new at the campus bookstore. That equals several hundred dollars per semester. To put that in perspective my textbooks per semester are generally around $700 - $800 worth: and I generally pay $400 - $500. Then I resell them to the school and generally make around 70 - 90% of what I paid back - because I bought them for so cheap. Some books I make a profit on: that is fun. Or I sell them on Kijiji or Amazon.
Hope this helps all our university students out there!