New Netflix Shows & Movies For October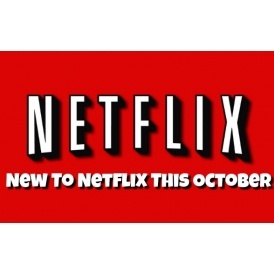 Netflix is always switching it up - and I, for one, am quite thankful.
There seems to be lots of Halloween/scary movies and shows coming out this month, of course. I sense a lot of Halloween Date Nights at home with the hubby!
Which ones are you looking forward to most?
If you don't already have an account, sign up for Netflix here!
Here are the new Netflix additions for October 2017:
October 1st:
Alienate
As You Are
Black Mass
Boys in the Trees
Dead Set
Equestria Girls: Tales of Canterlot High: Season 1
Generation Iron 2
Ghost Patrol
Lockup: Disturbing the Peace: Collection 1
Our Brand Is Crisis
Patriots Day
Sticky Notes
Valley of the Dolls
October 2nd:
Los 33
Mr. Dynamite: The Rise of James Brown
October 3rd:
13 Demons
Cult of Chucky
Rodney Carrington: Here Comes The Truth
October 5th:
Bonus Family (Bonusfamiljen): Season 1
It Was Fifty Years Ago Today! The Beatles: Sgt Pepper and Beyond
October 6th:
Chelsea: Season 2: New Episodes Weekly
ID-0: Season 1
Kibaoh Klashers: Season 2
Once Upon a Time: Season 6
Scandal: Season 7
Skylanders Academy: Season 2
Suburra: Season 1
The Death and Life of Marsha P. Johnson
Word Party: Season 3
October 7th:
Chris Brown: Welcome To My Life
Wolves
October 10th:
Christina P: Mother Inferior
October 11th:
October 12th:
Ali G Indahouse
Dynasty: Season 1
Nanny McPhee and the Big Bang
Riverdale: Season 2
The Kite Runner
October 13th:
Dragons' Den: Season 14
El Especial de Alex Fernández, el Especial
Kingdom Of Us
MINDHUNTER: Season 1
Super Monsters: Season 1
Supernatural: Season 12
The Babysitter
The Meyerowitz Stories
Voltron: Legendary Defender: Season 4
October 14th:
Jane The Virgin: Season 4
This Is Not What I Expected
October 15th:
Learning to Drive
LEGO: City: Season 1
Money
Slasher: Guilty Party
West Coast Customs: Season 6
What We Did on Our Holiday
October 16th:
Deep Undercover Collection: Collection 1
October 17th:
Patton Oswalt: Annihilation
October 19th:
October 20th:
1922
Do the Right Thing
Haters Back Off: Season 2
One of Us
The Day I Met El Chapo: The Kate del Castillo Story
Wheelman
October 21st:
The Vampire Diaries: Season 8
October 24th:
The Hunt: Season 1
Wanted: Season 1 & 2
October 25th:
Godzilla
The Final Master
October 26th:
Friday the 13th: Part 4: The Final Chapter
Friday the 13th: Part 5: A New Beginning
Friday the 13th: Part 6: Jason Lives
Friday the 13th: Part 7: The New Blood
Iceman
Strange Weather
October 27th:
Joan Didion: The Center Will Not Hold
Life in Pieces: Season 2
Stranger Things 2
October 30th:
Judah Friedlander: America Is The Greatest Country In The United States
October 31rd: