New Netflix Shows & Movies For November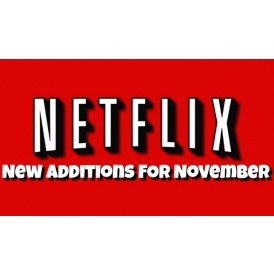 Netflix is always switching it up - and I, for one, am quite thankful. The month of November is the first month of the Netflix binge-watching season, so I am glad to see so many new shoes and movies coming to Netflix. I can't wait to curl up with some good shoes and my favourite hot bevvie. Can you?
Which ones are you looking forward to most?
If you don't already have an account, sign up for Netflix here!
Here are the new Netflix additions for November 2017:
November 1:
21 Thunder: Season 1
A Cure for Wellness
A United Kingdom
A Walk in the Woods
Ali
Bad Boys & Bad Boys II
Beginners
Birdman or (The Unexpected Virtue of Ignorance)
Brojects: Season 3
Charlie and the Chocolate Factory
Frank & Lola
Greenleaf: Season 2
Hancock
High Anxiety
Hitch
I am Bolt
In the Heart of the Sea
Julia
Logan
Men in Black & Men in Black II
Miss Hokusai
Office Christmas Party
Phantom Boy
Rebel Without a Kitchen
Romeo is Bleeding
Scooby-Doo 2: Monsters Unleashed
Silver Streak
Stranger: Season 1
The Doors: When You're Strange
The DUFF
The Matrix
The Pursuit of Happyness
The Shawshank Redemption
Under Arrest: Season 7
Waking Life
Wall Street
Where the Day Takes You
Young Frankenstein
November 2:
Isabelle Dances Into the Spotlight
November 3:
Chelsea: Season 2
The Big Family Cooking Showdown: Season 1
November 4:
November 5:
It's Not Yet Dark
The Dinner
The Veil
November 7:
Fate/Apocrypa: Season 1
Project Mc² : Season 6
November 9:
Cowboys & Aliens
Jetsons: The Movie
November 10:
Blazing Transfer Students: Season 1
Dinotrux Supercharged: Season 1
Gitter Force Doki Doki: Season 2
Gold
Greenberg
Lady Dynamite: Season 2
Miraculous: Tales of Ladybug & Cat Noir: Season 1
Mea Culpa
The Killer (O Matador)
November 13:
Chasing Trane: The John Coltrane Documentary
November 14:
DeRay David: How To Act Black
Hickok
November 15:
Mariah Carey's Merriest Christmas
Point Break
Star: Season 2
November 16:
Green Zone
Midnight Run
The Case for Christ
November 17:
A Christmas Prince
Longmire: Season 6
Luna Petunia: Season 3
Marvel's The Punisher
Mudbound
Shot in the Dark: Season 1
Spirit: Riding Free: Season 3
Stretch Armstrong & the Flex Fighters: Season 1
Brian Regan: Nunchucks and Flamethrowers
Saving Capitalism
November 22:
November 23:
Bushwick
Deep
Field of Dream
Religion of Sports: Season 1
She's Gotta Have it: Season 1
The Dilemma
November 24:
Cuba and the Camera
The Girl from the Song
The Many Faces of Ito: Season 1
Trailer Park Boys: Out of the Park: USA: Season 1
November 27:
My Little Pony: Friendship is Magic: Season 7
November 28:
Glitch: Season 2
Good Morning Call: Season 2
Prison Playbook: Season 1
November 30: