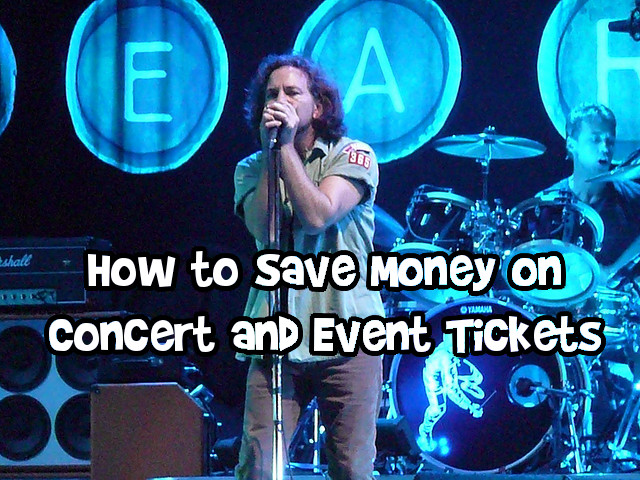 We all know that concert and event tickets can be pricey.  Ranging anywhere from $30 to upwards of over $300 a ticket, we sacrifice a lot of money to see our favourite band or favourite sports team play.  Personally, I am not a big concert-goer or event-goer.  Don't get me wrong, I do enjoy them, watching Usher and Bruno Mars live was amazing but perhaps I am not as die-hard fan as I previously thought I was.  When my friends want to go watch an Opera, I suggest a matinee.  When I went to the Squamish Music Festival (which was pretty amazing because Arcade Fire, Nas, Bruno Mars, and The Roots were playing), the tickets were expensive (not to mention the camping in Squamish was expensive), however, we saved money by camping in a friends backyard and just took a taxi into the festival grounds.  There are definitely ways where you can have your cake and eat it too when it comes to event tickets!
Here are a few ways that you can save on your next concert, sports event, or other event ticket:
 Instead of Tickemaster.ca...Try Bidding
Scorebig allows you to score tickets at 60% less than the typical face value for a ticket.  I find Scorebig is somewhat analogous to Priceline (where you can bid for a hotel stay).  The other commonality is that it is only applicable for tickets in the United States, unfortunately, and not Canada.  Scorebig has tickets for all sports events such as the NHL, NBA, and even has tickets for Broadway and city attractions.
Volunteer
Volunteering is an altruistic win-win situation.  Not only do you feel good about yourself by contributing to society and your community, you will also score free event tickets.  Kiplinger suggests volunteering as an usher because it will allow you to watch free events, concerts, and sports.  My friend previously volunteered for the Vancouver International Film Festival.  Because of this, she was able to watch all the movies and films to her heart's (and time's) content for free!  Tickets normally cost at least $15 per film from what I recall.  Another friend of mine works for Rogers Centre in Vancouver as an extra part-time side job and gets to watch all of the great concerts for free or for a big discount.
Buy Direct
Lifehacker suggests that you buy direct from the Box Office to avoid service fees (you know, the one charged by our friends at Ticketmaster).  This also works if the event is sold out, it doesn't hurt to try at the box office to see if there are any tickets laying around.  In Vancouver, there is another "Box Office" that is called Tickets Tonight, where you can get half-price tickets however you have to pick up the tickets in downtown Vancouver and the tickets are bought the day of.  The ticket prices are half off, so that can be a great deal for some shows!
Try an Aggregator
Just like looking for flight deals on Kayak.com or hotel deals on Trivago.com, which are known as aggregators (the search engine that looks for flights or hotels on multiple websites in order to find you the best deal), there are some aggregators for concert, event, and sports tickets.  According to Seatgeek, you can search for millions of concerts and events in one place.  Another concert and event and sports event aggregator is Seathound, however this appears to target sports events slightly more.  These are established ticket marketplaces and a trustworthy place to buy your tickets (after all, if you're spending so much money don't you want to make sure you're not getting a fake ticket a la Craigslist?).
Nosebleed Seats Aren't so Bad?
 Benzinga suggests that you don't be a seat snob.  Sometimes nose bleed seats are better than no seats at all!  Personally I would not pay hundreds of dollars more to see someone closer up, but that's just my preference.  Why not go in frugal style, grab your zoom camera lens and your binoculars and make friends with people that are sharing the nose bleed seats with you?  It's all part of the experience, right?
Bargainmoosers, what are some other ways that you save on concert tickets, sports event tickets, or other event tickets?
Photo credit: Jenny Baxter