Empire Theatres: Buy $30 Gift Cards For $30 Free Coupons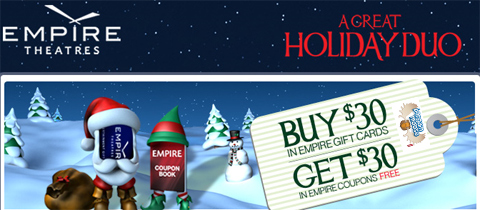 At Empire Theatres Canada, if you buy $30 in gift cards, you will also get a free coupon booklet with $30 worth of coupons!
You can buy the $30 gift cards online, but shipping seems to be $11, so it doesn't really sound worth it. But it says the offer is available at your local Empire Theatres too, so I would prefer that option.
The Coupon Bundle includes:
Buy one General Admission Ticket and get a second Ticket FREE
Get $2 OFF any Combo (excluding Kid's Pack)
Admission Ticket, Regular Soft Drink & a Small Popcorn only $9.99 plus tax
Purchase a Large Popcorn and get a FREE Large Coca-Cola Soft Drink
$6.99 Admission
$4.00 OFF General Admission
With every $30 gift card increment, you get another coupon bundle, so you would get 2 coupon bundles if you spent $60 on gift cards.
If you're a regular cinema goer, this is a good deal. I reckon you would use most of the coupons too, in the general cinema going process.