Blockbuster Canada: Entertainment Pack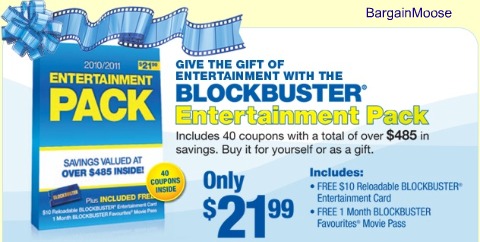 This is a cool little pack for movie watching buffs. For $21.99 you can get an entertainment pack for Blockbuster that evidently offers you $485 in savings. That is a lot. I'm not sure what all is in the pack but we do know two things:
Free $10 Reloadable Blockbuster Entertainment Card
Free 1 Month Blockbuster Favourites Movie Pass
Those two alone are worth close to $20. There are 40 coupons in this book, so a pretty decent grab.
You can check out the deal HERE but it looks like you will need to buy this in store.