AMC Theatres Coupons: Free Popcorn & Drink! (Toronto)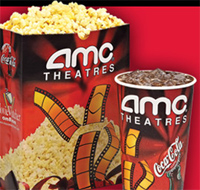 These free printable Canadian coupons are good for those of you in the Toronto area! If you plan to go and see any of the new movies Imagine That, The Taking Of Pelham 123 or Star Trek at your local AMC theatre, make sure you bring this coupon with you! The free coupon means you can claim a free large popcorn and free fountain drink with your movie!
The coupons are only valid for a few more days, until the 16th of July 2009. I wasn't planning on seeing Imagine That, I had no idea what it was about until I looked it up on IMBD. It's Eddie Murphy's new movie about his daughter's imaginary world. It doesn't yet have a rating on IMDB, so I'll be interested to see what it gets.
The Taking Of Pelham 123 is also unrated yet!
The new Star Trek movie gets 8.4/10 on IMDB, which is pretty high! I saw it a while ago, I absolutely loved it though, because I'm truly a trekkie! I thought the characterisation of all the main characters was spot on.
Enjoy your free concessions guys!
P.S. The deal for the free kids pack Canadian coupon is also still valid.