AMC Theatres Coupon: Free Consessions @ Final Destination Movie (Toronto)!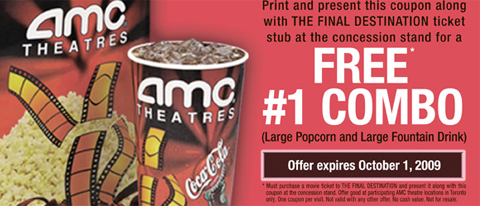 Final Destination was recently released at the theatres. If you have not yet seen it, this deal could be a good excuse to do so. If you are seeing it at AMC theatres, just make sure you print and present the printable coupon below, to get yourself a free #1 combo!
The #1 combo is a large popcorn and a large fountain drink - this is an excellent freebie with your movie ticket! The free coupon will only work in Toronto AMC Theatres.
As for the movie itself, it's not one that I will be rushing out to see. I think I saw the first movie, wasn't that impressed by it, so didn't follow the sequels. IMDB scores this one with 5.4/10, which is a pretty dismal rating, by all accounts.