Sex Toys Canada Coupon Code: 21% Discount (NSFW)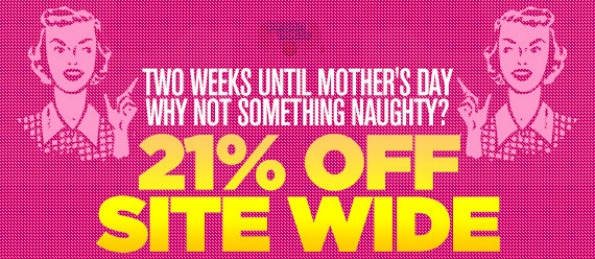 Sex Toys Canada has a coupon code for 21% off their entire website with coupon code.
Click here to shop @ Sextoyscanada.com now (18+)
Coupon Code: MOTHER
Discount: 21% off
Expiry: 12th May 2014
I have been really impressed with Sex Toys Canada's prices for toys the more I have gotten to know the company. They are one of the best priced toy sellers in Canada and very competitive with other retailers. With an additional coupon like this, they are hard to beat.
While some of you may not associate toys with Mother's Day... they can be a very nice gift between a couple to rekindle the bedroom magic after the havoc that children play on a marriage and the sex drive. I would recommend trying out one of the We-Vibes which have been celebrated by celebrities like Oprah.
Since the We-Vibe 4 has been released, the We-Vibe 3 is on sale. Originally $172.95, the device is on sale for $119.95. You can also use the coupon code on this offer to bring the We-Vibe 3 down to just $94.76.
If your budget doesn't support that, then try the We-Vibe 2 which is on sale for just $68.95 and comes down to only $54.47 after coupon. Available in teal, pink, or purple.
Receive free shipping on orders of $69 or more. Be sure to check our forum for more Sex Toys Canada coupon codes.