Kulapix Canada Exclusive Coupon Code: All 11oz Customizable Mugs Only $5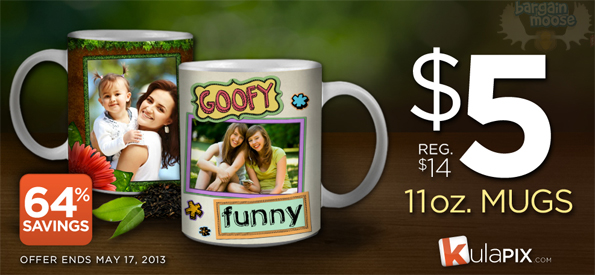 Bargainmoose has an amazing idea for a gift and it will only cost you $5. Make someone their own customized mug and get it for only $5, regularly $14 each.
Click here to shop @ Kulapix.com
Coupon Code: MOOSEMUG
Discount: 64% Off Customizable Mugs
Expiry: 17th May 2013
Making a customized mug is very easy at Kulapix. Simply choose your size (in this case 11oz) and your inside colour. On the next page you'll choose your design, with many to choose from. Mommy & Me is great for moms with young kids. If Mama ain't happy... ain't nobody happy, is perfect for me. They have lots of other themes from sports to holidays to travel.
Then, you'll upload your photo from a wide variety of sources including your own computer and Facebook. I like uploading from Facebook, since I know my favourite pictures are already on there and sorted. You can even edit the picture(s) once you've uploaded them onto the mug. From there you can add other images, borders and backgrounds.
I think this is an amazing idea for Mom or Grandma; after all, who wouldn't want to look at the gorgeous faces of their children or grandchildren every morning during tea?
Shipping depends on what you buy, but will be around $10. You can buy as many mugs as you'd like, but I suggest you do it with one order to try to save on shipping costs.
Check the Bargainmoose forum to see the other exclusive coupon code we have for Kulapix.