Hanging Toiletry Bag $17.84 @ Amazon.ca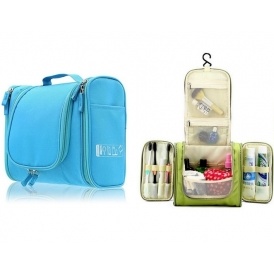 Amazon.ca marketplace seller Theoneer is offering a BTSKY Hanging Toiletry Bag in 5 assorted colours, for the duration of the Amazon lightning deal of $17.84. The reg. price is $20.99 so if you miss this special, the price is still reasonable! The order will be fulfilled by Amazon.ca which means you'll receive this quickly.

My daughter's using one in her locker, it works well for keeping odds and ends in one place. We also use one on the back of the washroom door to store items used often but that we don't want sitting by the sink, making a mess.
Shipping will be free if you're an Amazon Prime member otherwise, you'll probably want to top up your cart to get your order to over $25 to get free shipping, by buying something you might ordinarily buy anyway.
How about some L'Oreal Paris Superstar Mascara to put in your new bag? It's only $6.97 and it's a fabulous mascara, with a primer on one end and a fiber-rich mascara on the other end.