Black To The Basics Adidas Defender II Bag, $16 @ Hudson's Bay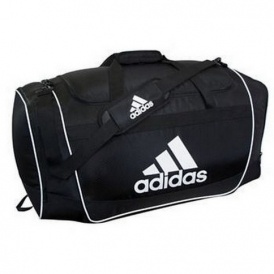 With the regular price being $40 for the blue version of this Adidas Defender II Duffle Bag, and a patterned one selling for $45, I will gladly go 'black to the basics' with this black coloured base/ classic Adidas white logo and piping trim, for only $16. It's a sharp looking bag with it's high contrast!
I'm not sure what the lifetime Adidas warranty entails, but make sure to save your receipt and attached packing slips and tags.
This bag measures 18" x 25" and there is a side fresh-pak ventilated pocket, as well as a side easy-access zippered pocket.
Shipping is free at Hudson's Bay on orders over $99, or over $49 with an HB card. Otherwise, shipping will cost $5.95.
(Deal expiry: Unknown)