La Vie en Rose Canada: B1G2 Free On All Cotton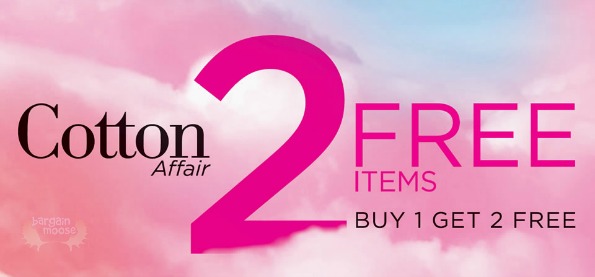 Buy any cotton item at La Vie en Rose and you'll be rewarded with two more free!
When I say cotton, I mean cotton sleepwear. I have a number of La Vie en Rose sleepwear pieces and they are great. My mom usually gets them for me as a gift at Christmas, so I get a new set each year, but they have lasted over the years. I don't like wearing long pants to bed, but they are great for lounging around the house. The shorts and nighties are definitely more my style. Sleepwear makes a great gift for any lady, and with this sale you could go all out and get three matching pieces like a nightie, shorts or pants and a top.
If I had my pick I'd get the pink woven boxers ($19.95), the my heart sleeps by the sea pink nightie ($29.95) and the voice of the sea speaks with the soul t-shirt in pink ($19.95). Instead of paying $69.85 for everything, I'll only pay $29.95 for the highest priced item! If I wanted to be even more savvy, I'd get three items priced the same to get the third same priced item free.
I looks like La Vie en Rose has all the pastel colours covered for this sale with pink, blue and purple being the only colours available, but I really love the softness of them.
Shipping is free once you've spent over $75, so you could really go crazy and buy yourself a lot of sleepwear to save on shipping and get a ton of free items. You could also browse any of the other categories to get you up to the shipping threshold.
(Expiry: 30th March 2014)