Knixwear Canada Coupon Code: $30 off $100 Purchase TODAY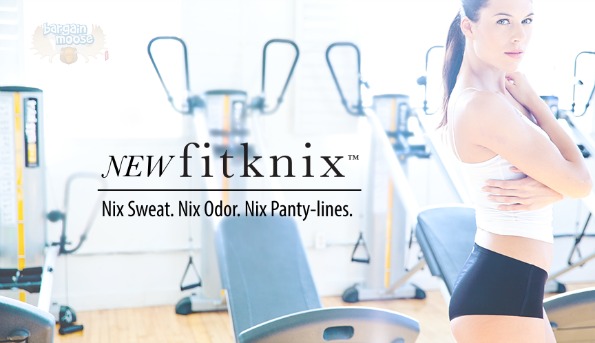 Knixwear Canada has released a one-day coupon code for $30 off your $100 purchase of moisture wicking performance women's underwear.
Click here to shop at Knixwear Canada now
Coupon Code: KNIXY30
Discount: $30 off $100
Expiry: 24th September 2014 (Still working as of the morning of the 25th)
I received this email around 5am this morning, so the coupon might be valid until 5am tomorrow (25th) morning but there is no specified end date stated. It just says for 24 hours only.
Knixwear has recently expanded their colour pallet in the lace pattern of leak resistant underwear they make. Previously only offered in black and something that highly resembles ivory, they have added in fall colours. Indulge in a dark blue or deep purple pair of Lace Leak Proof Boyshorts from Knixy. These are by far my favourite style, who knew performance underwear could look as good as they function? They retail for $38.
The Leak Proof line by Knixy is on my shopping list as back-up underwear during my period. As they can handle a few spills without a problem, they are excellent backup underwear during that time of the month. They also would work as regular underwear when your period is close but you are not positive when it will start. There is nothing like a surprise to ruin your day.
The Lace Moisture Wicking Boyshort - Knixy Air has received the colour expansion as well. They are also a couple dollars cheaper, only $32 a pair.
Now, you may be curious as to how these two boy shorts (both lace) are different from each other. Leak proof underwear feature leak resistant sides and bottoms that can absorb one to three teaspoons of liquid. They also are anti-microbal and feature moisture wicking cotton. The Moisture Wicking Boyshorts are still antimicrobal and have the moisture wicking cotton, but they do not have any leak resistant technology.
If you are a curvier girl, there are options for you. Unfortunately, they seem to still be trapped in the basic black and ivory colours. I do hope they expand to include the lovely black and purple a few of the regular lines now feature.
I have always liked Knixwear because they are a Canadian company tackling the underwear industry. I also love that they have a wide range of sizes therein acknowledging that women of all shapes and sizes deserve fantastic performance underwear.
Receive free shipping on orders of $75 or more.
For this and any future Knixwear coupon codes, check the forum.