Knixwear Canada Coupon Code: $30 off $100 Purchase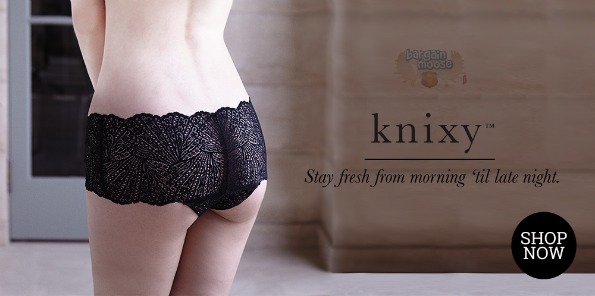 Knixwear Canada has released a coupon code for $30 off your $100 purchase or more of performance women's underwear.
Click here to shop at Knixwear Canada now
Coupon Code: SUMMER30
Discount: $30 off $100
Expiry: 1st July 2014
Knixwear is a brand that is on my "to buy" list. They are a Canadian company that makes performance underwear that is moisture wicking and anti-odor. Some of their underwear goes a step further and is made with the Freshfix technology, which is also absorbent, leak resistant, and has moisture-locking sides.
The Knixy Boyshort is made with the freshfix technology that includes these extra properties that are helpful for women around their period, after having a child, and those with small bladder leaks. I want to try out their underwear because their underwear is reassuring when you are close to your period but it is just not keeping on schedule. It is nice to know that wherever you are, this underwear will have my bottom. They retail for $38. The lacy boyshort is actually my favourite style, and the first one I would buy.
Second on my list would be the Knix High Rise Brief in all its seamless glory. Seamless underwear is imperative under most dress pants and any form fitting skirts. No one wants to show of the style of their underwear with the visible panty-line. I prefer a high-rise brief because it smoothes out the stomach and creates a continuous sleek silhouette. You can purchase a pair in either nude or black. Personally, both seem like such a basic essential to one's underwear drawer. This underwear retails for $34.
The FitKnix Air Thong uses the base technology of moisture-wicking and anti-odor properties without the added leak protection. It is a fantastic choice for athletes as sweat in that area would be absorbed by the fabric - for a nice, cool, comfortable exercise routine. The underwear comes in black, nude, pink, or blue and in sizes XS up to 2XL. The thong is priced at $24. There are several other styles in the same fabric to choose from.
I love how Canada is starting to get into the lingerie business and create innovative underwear solutions for women. I follow many lingerie companies and so few are from Canada. I really hope that Knixwear does well and I will certainly be planning a purchase there in the near future.
Receive free shipping on orders of $75 or more.
For this and any future Knixwear coupon codes, check the forum.