Hollister Co.: Clearance Sale - $16 Bras & $3 Panties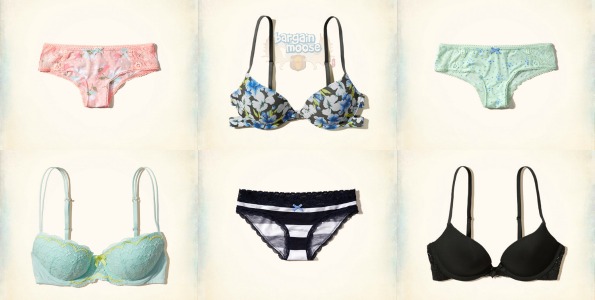 I am always on the lookout for good deals on clothing basics. Well, there is nothing more basic to a woman's wardrobe than bras and underwear. Right now, Hollister has a good selection of bras on clearance for just $16 each and a few pairs of underwear are discounted to only $3.
The Lace Push 'Em Up Plunge Bra has the highest discount out of all the bras. Originally $42.95, this bra is now on sale for just $16. There are still a few sizes left in the grey floral, which I mistook for denim the first time I saw it. It is not a bra pattern that I like, but it must be popular as so many sizes already sold out.
The best size selections are available in the basic Super Push 'Em Up Plunge Bra that was $32.95 and is now $16. The plunge style works well with deep-cut tops and the push up gives a little extra emphasis. I call this a basic bra because it is only available in black or white.
Now, my favourite bra also is available in all sizes. The Lace Perfect Push 'Em Up Balconet Bra Was $36.95 and is now on sale for just $16. I would purchase this bra in all three colours: blue, pink, and white. Sizes 32A up to 36D are available, with all the cup and band sizes in between.
Now, we cannot forget a few pairs of underwear. With clearance underwear priced at just $3 to $4, you can buy a lingerie set for just $20. The GH Printed Cheeky Undie is my favourite and the best discount. Originally $11.95, this pair of underwear is on sale for $3. While many colours have very limited sizes left, I did find the mint with stars is available in all sizes and the coral floral has all sizes except medium in stock.
Both the GH Graphic Short Undie and the GH Bikini Undie were $10.95 and are now on sale for $3. Sizes for both these pairs are extremely limited.
For an extra dollar, there are eight other styles of underwear you can choose. I fancy the basic Lace Cheeky Undie that was $8.95 and is now $4. All colours and sizes are in stock.
Receive free shipping on orders of $50 or more.
(Expiry: Unknown)