Beyond The Rack: Dark Zone Men's Underwear Up to 70% Off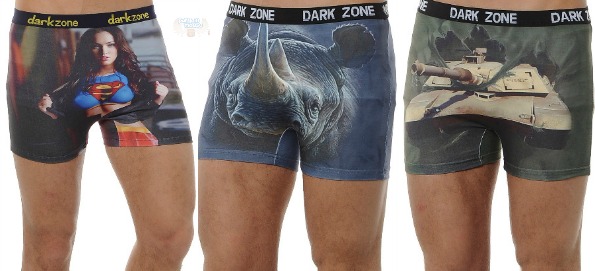 These are some of the most awesome men's underwear ever! Get up to 70% off Dark Zone men's underwear during their sale at Beyond The Rack.
Its difficult to get BTR to deep link so the best way to find this deal is to select men's only deals and look for Dark Zone.
As you can see from the banner above, these underwear are out of this world. My favourites are the AJ Lycra Boxer in Smoke (the rhino pictured above) and the Howie Lycra Boxer in Smoke which is a fire breathing dragon. Both originally $55, they are now on sale for $15.99.
If you are into military designs then this Ryan Lycra Boxer in Blue (aircraft carrier), Jason Lycra Boxer in Green (tank), or Justin Lycra Boxer in Turquoise (jet) might be just up your underwear drawer. These designs also were $55 and are now $15.99.
There are tons of fantastic designs like flaming skulls, poker and women, cars and women, Harleys and women, animals, and more. These are certainly unique underwear that are sure to please.
Shipping is just $5.95 for your order.
(Expiry: 14th April 2014 @ 1PM).