American Apparel: Strapless Ruched Bodysuit $5 (Was $34)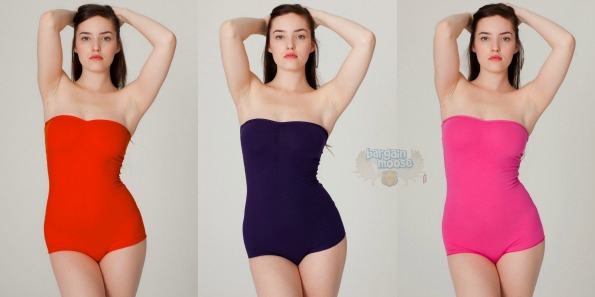 American Apparel has discounted this cute Cotton Spandex Jersey Strapless Ruched Bodysuit from $34 down to just $5.
This suit is just adorable. It is a strapless bodysuit with plenty of stretch to hug your curves. The ruching between the breasts really makes your chest look nice, and I adore the modest cut on the bottom of the bodysuit. The bodysuit comes in sizes XS all the way up to an XL so there is a good chance you can find a suit to fit. You also get your choice of eight gorgeous colours: brown, imperial purple, fuchsia, evergreen, green T, asphalt, neon yellow, and orange.
My favourite two colours are the orange and imperial purple. Orange is such a rare colour in bodysuits and it looks good on many skin-tones, including my own. I only own one item in orange and I really want to expand my orange collection. I also have a huge soft spot for purple and this imperial purple is stunning.
Now, a bodysuit can be worn as either lingerie or it can be the perfect layering piece. Pair it with shorts, a skirt, or wear under a sheer dress for a fantastic layered look. At this price, you might as well buy a bunch because they are such versatile pieces. I love to wear just bodysuits while lounging around the house. If I am too lazy to get dressed, a bodysuit is the perfect one-piece answer to my lazy day at home.
This deal is part of the American Apparel $5 sale. There are so many amazing deals in this sale with the bodysuit just being my favourite. This Piqué Bloomer would make a lovely accompaniment to the bodysuit for lounging around the house. Originally $28, it is on sale for $5.
You could also totally layer the bodysuit under this Unisex Sheer Jersey Loose Crew Summer T-Shirt with a pair of shorts. The bodysuit would peek through the sheer shirt and look fantastic. It would be a great outfit for hanging out with friends or walking along the beach. The summer T-shirt was $26 and is now $5.
Now, American Apparel Canada offers free shipping on orders of $60 or more so I highly suggest exploring the rest of the $5 sale section or loading up on a bunch of bodysuits to reach that minimum. Under $60, shipping costs a flat rate of $8.
(Expiry: 14th June 2014)