Tricerataco Taco Holder $12.95 @ Chapters Indigo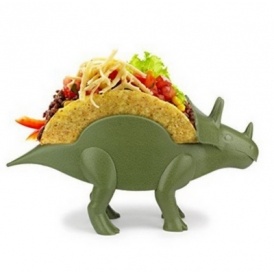 If you have kids (or kids-at-heart), I have found a super fun Tricerataco Taco Holder that is sure to take the melodrama out of meal-times. Right now, they are in stock @ Chapters for $12.95 but online only!
Each taco holder holds two tacos, is BPA free, lead-free and phthalate-free and is also dishwasher safe.

Kids love dinosaurs and they also love tacos, so your next Taco Tuesday is sure to be awesome. Making tacos together as a family, is also a great way to introduce kids to cooking and a clever way to ensure they get protein and vegetables, all in one healthy meal!
These are sure to sell-out again at Chapters and if so, they are currently available @ Amazon for $16.

I think these Tricerataco taco holders are Jurassic but if you find them a little too OTT (over the top), then do the Macarena on over to Bed Bath & Beyond where they have a colourful but simple set of 12 for $14.99.
Standard shipping is FREE @ Chapters on orders over $25.