Salton Low Speed Juicer and Smoothie Maker $85 @ Hudson's Bay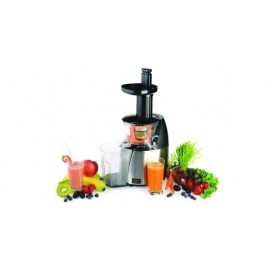 There's nothing better in the morning - especially in the spring and summer - than fresh juice. Making your own can be super healthy and you can customize the flavours to your heart's content. This juicer by Salton is also a smoothie maker and I love my smoothies. Regularly $249.99, it's clearance priced at The Bay right now for $99.99 but use the code FRIENDS and get it for just $84.99.
Click here to purchase the Salton Low Speed Juicer and Smoothie Maker @ The Bay now
I found this same juicer and smoothie maker selling for $180-$210 elsewhere so this is a steal, especially for two machines in one; you simply switch the strainers for juice or a smoothie. It has a no-mess, sealable spout; it allows your to switch from one juice flavour/mix to another with the convenient rinse function. It includes a cleaning brush, tool for pushing the food through (cleverly titled a 'food pusher'), two containers and recipes.
You can find juicing and smoothie recipes across the web or get an inexpensive book with tons of ideas. When I first got my juicer, I checked out Reboot with Joe—he has pages and pages of recipes for juices and smoothies of all kinds. This one with healthy green veggies, beets and citrus fruits is delish.
You may want to top up your order to $99 to get free shipping, but don't forget to enter FRIENDS at checkout to score 15% off your purchase (it's actually 20% if you're paying with any Hudson's Bay credit card).
Do you have a juicer? What's your favourite recipe?
(Expires: Unknown)