My Outlet Store Canada: 60% Off Lagostina Non-Stick Skillet + EXTRA 15% Discount Promo Code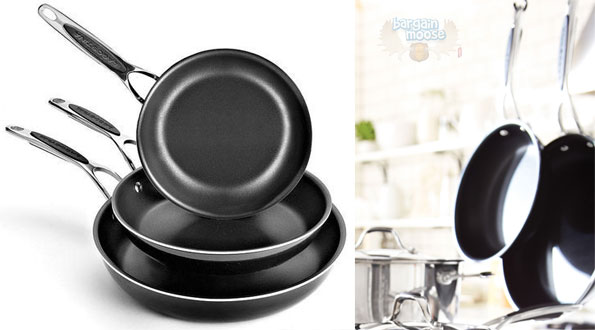 Need a couple of new skillets? The Lagostina non-stick skillet is currently on sale from $19 at My Outlet Store and you can use the coupon code SHEEPYEAR to save an additional 15%!
Since shipping is at a flat rate of $4.95 per order, it's much more worthwhile to get the entire set of these Lagostina pans. There are 3 sizes available:
20cm: now $19 (reg. $46.99)/ with code $16.15
26cm: now $25 (reg. $59.99)/ with code $21.25
30cm: now $29 (reg. $74.99)/ with code $24.65
It's a heavy-gauge aluminum non-stick pan with a Santoprene cast handle. Although it's not induction safe, it is oven safe at 350°F. The description doesn't specifically mention that it's dishwasher safe, but it does say that hand-washing is recommended.
Although My Outlet Store doesn't specify what model of Lagostina pans these are, I found the Windsor non-stick skillet at Sears. It looks identical to the one at My Outlet Store and features all of the same description, so I can only assume that it is the same model. Here's a review from Sears' product page:
I recently purchased this item on sale. I purchased the 26 cm and the 30 cm models. I like these pans because they heat up very quickly (no need to cook on "high"). The pan is lightweight and food cooks evenly and quickly and doesn't stick to the pan. I use very little oil when required, or sometimes use a bit of water. This model of pan has a 15 year warranty. I would recommend to anyone.
At Sears, the Lagostina pan is priced at $46.99 for the 20cm one, $59.99 for the 26cm and $74.99 for the 30cm -- huge difference from the prices at My Outlet Store!
With regards to the My Outlet Store coupon code that I mentioned above, it can also be applied to save on the following items:
There is no word on when the coupon code expires though, so don't wait too long to redeem it!
(Expiry: Unknown)