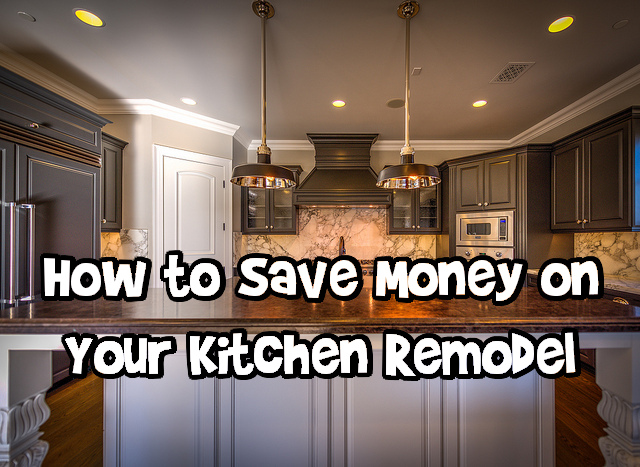 Many Canadians spend a lot of money renovating and updating their homes, especially the kitchen and bathroom, where most renovations usually give the most 'bang for your buck' in terms of updates and increasing property value.  Renovating and remodeling the kitchen can be very costly, I have a friend who spent well over $50,000 renovating her kitchen, however, it did involve knocking down a portion of a wall to open up the kitchen to the living room.
Keep the Cabinets
New cabinets and re-doing the cabinets are the reason why most kitchen renovations are so costly.  If you have a way to keep your current cabinets and just update the paint or change the cabinet doors, that will save you a ton of money in the long run.  According to Houzz (one of my favourite renovation websites for ideas), custom cabinets can cost anywhere from $10,000 to $60,000 and $250 to $2500 per linear foot.
Stainless Steel Stick On
Stainless steel adds a sense of contemporary charm to most kitchens and is probably the most preferred colour of appliance currently.  If your kitchen appliances work perfectly fine, this is a good option for you.  If you have black appliances and want the updated look of stainless steel, think about adding a stainless steel stick on! I would love to use this for my own kitchen because I love the look of stainless steel, but unfortunately I have white appliances.    You can find these stainless steel stick on sheets on Amazon.com for around $60.  It's an actual soft metal stainless steel film, it is not simply a sticker.
Keep the Layout
One of the other highest expenses for kitchen remodels is if you want to change the layout of your kitchen.  Changing the plumbing and the wiring requires an extensive job and is much more costly as you will have to hire a plumber who specializes in renovations etc.  Therefore if at all possible, consider keeping the layout of your kitchen to save money on your kitchen renovation.
Update the Knobs
Another frugal way to update your kitchen without spending too much money is to just update the knobs.  If you have round knobs and want a more modern look, updating the knobs is something anyone can do (if I can do it, you can!) without hiring a contractor.  For example, on Amazon.com you can find a pack of 25 knobs for cabinets for around $10.  There is a hardware/ upscale discounted dollar store that sells modern looking knobs for cabinets for around $1.25 a piece which is still a steal in my opinion!
Remodel Slowly if Necessary
If you have the luxury of time, remodel slowly if necessary.  Houzz states that you can put your backsplash up any old time and it doesn't need to be done when the cabinets or the countertop is put in.  You can sell your old appliances on Craigslist before you buy new appliances.  This way you won't have to dip into your emergency savings fund or into your line of credit to remodel your kitchen. Getting into debt for a kitchen remodel is not the most ideal way to start off your kitchen remodel!
Buy Scratch and Dent Appliances
To save money on your appliances, look for scratch and dent appliances and look for places where you can buy a package deal (for example, the fridge, stove, and dishwasher can be bought together).  Make sure that the scratch and dents are only cosmetic (and preferably in a spot where you can't really see it).  This will save you hundreds of dollars in appliances.  There are many scratch and dent appliance dealers that only sell scratch and dent appliances and nothing else.
Skip the Recessed Lights
Recessed lights, or pot lights, look nice but they don't really add that much to the look of your kitchen remodel, but they do add a lot of expense!  Each recessed light can cost around $150, and if you want two to four recessed lights, that really adds up.  This Old House recommends that you opt for track lighting or surface mounted ceiling light instead, which will save you the labour of someone cutting a hole in your ceiling and labour to make sure the electricity wiring works.
Bargainmoosers, do you have any other tips on how to save money on a kitchen remodel?
Photo credit: Sherwood CC