Etekcity Digital Kitchen Food Scale Now $15 (69% Off) @ Amazon.ca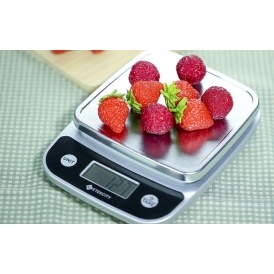 If you are in need of a digital food scale to help you portion out food quickly, then here it is. Get your hands on the Etekcity Digital Kitchen Food Scale which is now on sale at Amazon.ca for 69% off the regular price. This scale can now be yours for $14.95. If you have Amazon Prime you will get free shipping, but otherwise you will need to spend $25 to have your shipping costs included.
The Etekcity Digital Kitchen Food Scale can be used for numerous things. Personally, I feed my dogs a raw diet and have to weight their meals so this is perfect for me. It is also good for measuring medicine, jewellery, baking ingredients and so much more. This scale can weight up to 11 lbs or 5kg - so it should do the trick for whatever you need.
You can even easily convert units with the touch of a button. Sorry Google - you won't be needed to help me bake any longer. The battery is included with this scale, and it also comes complete with a one-year manufacturer's warranty.
Amazon.ca offers free shipping on all orders over $25. This item is sold by Etekcity Corp but is fulfilled by Amazon, so that will apply to this purchase as well. Amazon Prime members don't need to fuss about spending $25 for free shipping.
(Expiry: Unknown)