Beyond the Rack Canada: Up to 80% off KitchenAid and other brand names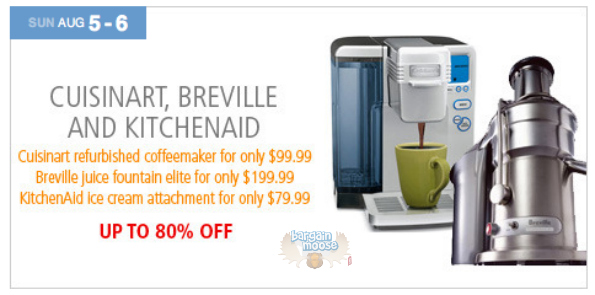 Beyond the Rack Canada has up to 80% off Kitchenaide, Breville, Cuisinart, Rachel Ray and others, just in time for canning season.
I have been in the state of mind for winter food preparation for the last few weeks. I really appreciate all the deals on kitchen items. For speed and ease the refurbished Cuisinart food slicer was $129.99, now $64.99. To help with the jelly and jam making process the refurbished 700 watt die cast blender by Cuisinart was $295, now $79.99.
There are many additional items that have money saving benefits, like this awesome  refurbished grind & brew thermal coffeemaker, in chrome, was $230, now $99.99.
Expiry: 6 August 2012, 11:00 a.m.