B1G1 Sparkling Water Maker @ SodaStream ($100 Value)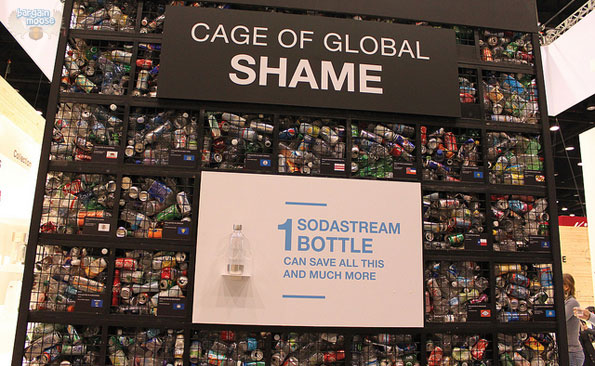 One Sodastream bottle can save all the bottles and cans pictured above, can you image how many two such bottles can save? Right now at SodaStream, you can get a FREE SodaStream sparkling water maker with purchase of one!
So yes, you do need to actually invest into one first in order to take advantage of this deal but the fact that you could get a sparkling water maker worth up to $100 for free is actually pretty awesome. A word of caution: the second sparkling water maker will be refurbished but really, this really isn't a word of caution at all actually. Very often, refurbished items are even better than brand new ones because you can rest assured that all the kinks have been worked out. Sometimes, a product gets a "refurbished" label slapped on it just because of a dent in the box or any other silly reason, so when it comes to saving money, it really is in your best interest to not worry about something being refurbished!
You can choose between either the refurbished Jet Titan or the Genesis Titan silver sparkling water maker.
The way I see it is that if you have been wanting to get a sparkling water maker for some time now, you could either split the cost with someone or get it for them as a gift. Well, there is the third option of selling the one you get for free online but that's up to your own discretion. :O
In all, you can choose among the following SodaStream sparkling water makers, some of which come in different colours:
Genesis Titan: $99.99
Play: $99.99
Source Plastic: $129.99
Pure: $129.99
Source Metal: $149.99
Power: $179.99
Revolution: $199.99
Crystal Titan: $199.99
All of these have slight differences in the amount of liquids they can carbonate and the material they're made from, so make sure to weigh each one carefully before deciding which one you want, especially since you will be receiving two identical ones.
Shipping is free on orders over $150 and with each purchase, you can also choose 4 of these gifts: Country Time Lemonade, Sodacaps Classic, Diet Orange, Sodacaps Diet or Cranberry Raspberry.
(Image Credit: Inhabitat)
(Expiry: 10th August 2015)