5-in-1 Crock-Pot Multi Cooker on Sale for $79.99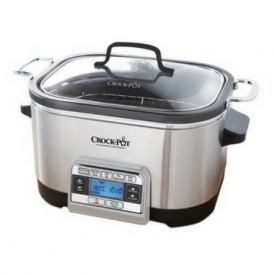 You'll want to pick one of these up before the kids head back to school! Right now, the 5-in-1 Crock-Pot Multi Cooker is $50 off!
This Crock-Pot Multi Cooker sells for $129.99, but this deal means you can get it for $79.99!
Trust me when I say that one of these will make your life much easier (the food prep parts of it, that is)! But in all seriousness, a good Crock-Pot is one of those appliances that can save your sanity – and at this price, how can you say no?!
The Multi-Cooker lets you roast, bake, brown, sauté and slow cook – all with one machine! You can choose from preset programs or set your own temperature, and you can easily switch up the settings if you need!
It comes with a removable chrome roasting rack, and the see-through lid means you can adjust temperatures without interrupting the cooking! Plus, the cool-touch handle and automatic "shift to warm" setting will help keep you and your little ones safe the whole time it's on.
And in case you missed it, the 2 for $35 Lunch Crock Food Warmers deal was just extended until Sept. 3, 2017, so you can pick some of those up on sale, too!
Crock-Pot ships orders over $40 for free.